The Crow's Nest Golf Club team of Greg Campbell 39 pts, Brian Phillips 37 pts, and Jack Thorpe 37 pts convincingly won the DDGA Committee Challenge held at Goombungee. 18 of the associations 19 clubs took part and thanks must go to Goombungee Golf Club for hosting the event.
They presented the course in good order and a great meal was supplied at the end of play. The winning clubs prize of $500.00 will no doubt be well received at Crow's Nest.
The Millmerran team of Frank Pokarier, Nigel Ezzy and Dean Lindenmeyer with 105 points picked up second place prizemoney. Dave Edwards, Dean Hossack and Mal McInnis from Bell who scored 103 points took home the third-place cheque. Greg Campbell had the best score of the day with 39 points.
(Left - Crow's Nest Team of Brian Phillips, Jack Thorpe and Greg Campbell)
Life Membership - Neil Gilshenan
The DDGA 2022 Annual General Meeting elected long serving committee member Neil Gilshenan to Life Membership. Neil was elected to the committee in 2007 and rose to the role of President in 2010. A position he held till 2016. Neil has also been the associations QGU Delegate since 2014.
Neil and new President Jim Miller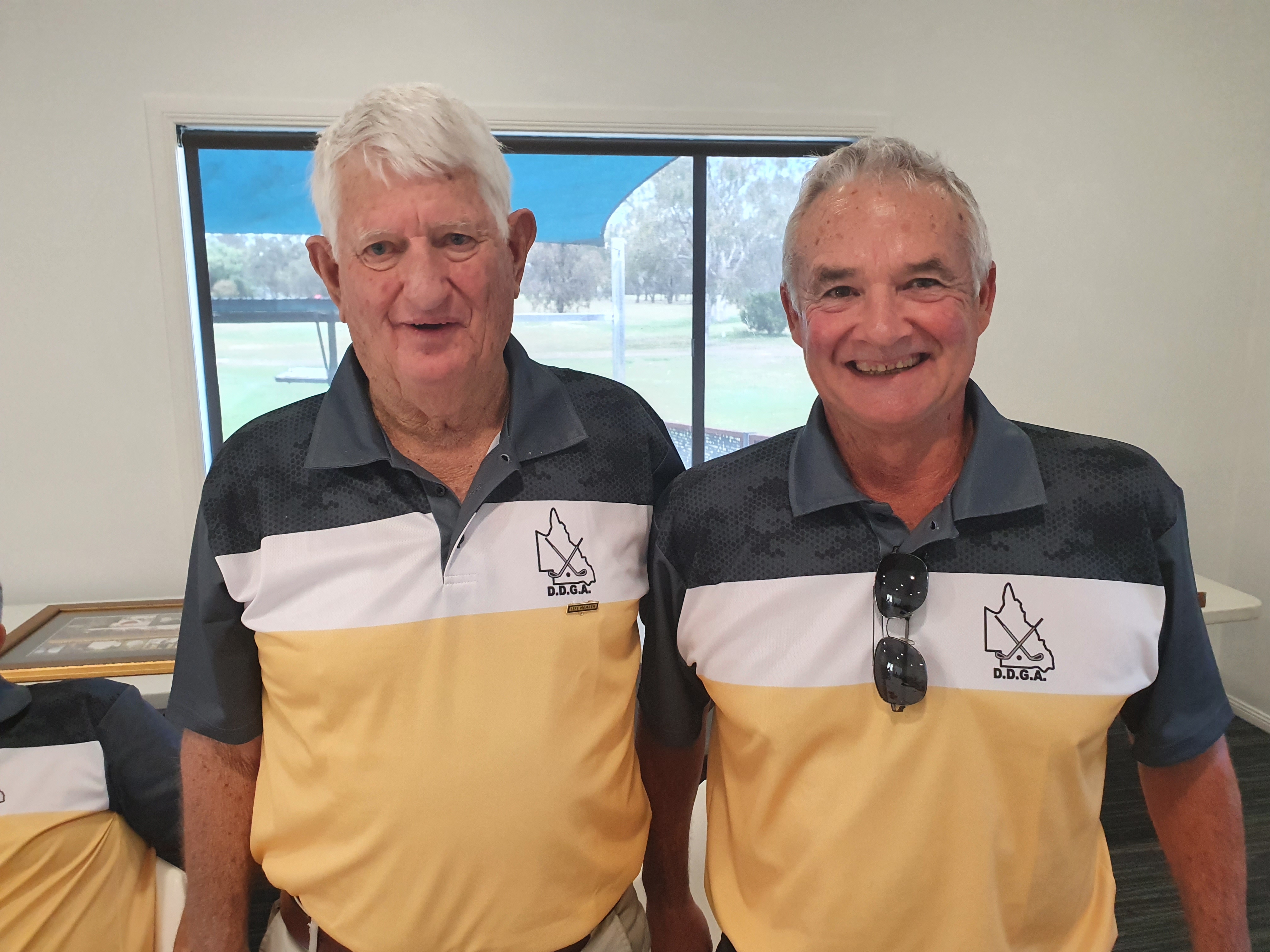 DDGA Successful at TRI-SERIES
DDGA hosted a very successful Tri-Series contest against Moreton and South-East Districts on September 25. The Toowoomba Golf Club was a great venue and the DDGA Senior, Open and Colts teams all came away with the silverware. South-East won the Juniors.
Congratulations to the following DDGA team members. DDGA Seniors: Kelly O'Rourke, Mark Ryle, Ivan Walls, Ian Watkins and Luke Short. DDGA Open: Kris McLennan, Andrew Pienaar, Nigel Weldon, Adam King and Garrett Malone. DDGA Colts: Jack Oster, Ben Moore, Mitch Fowler, Sam Blackshaw and Tim Goddard.
Clifton Win Committee Challenge.
The Clifton Golf Club team of Gary Riddle, David Robins and Darren Hedges won the 2022 Committee Challenge with a score of 104 points. Toowoomba Golf Club led by a best score on the day from Arun Pratap of 39 points were second with 100 points. The Clifton course was in great condition and received many accolades from visiting clubs. Thanks to Clifton for hosting the event in 2022. The event will be held at Goombungee next year.
Pennants
The 2022 Pennant Season kicks off on April 4. There will be plenty of competition across 6 divisions this season. The increase in divisions is due to the split of the Handicap Division into 3 sections. In a move to get Junior Pennants back some clubs will be playing juniors in Division 6 which is encouraging.
Vale Rob Harris
It is with sadness that I report the recent passing of Life Member Rob Harris. Rob, a member of the Millmerran Golf Club was elected to the committee in 1981 and served as a committee member until elected President of the association from 1984 to 1988. Rob was the Association QGU Delegate from 1987 to 1993. He returned to a committee position in 1993 and served until 2004. Rob was elected Patron of the DDGA from 2005 till 2012. He was bestowed Life membership in 1999 for his distinguished service to golf on the Downs. We offer the associations sympathy to his family.
Jandowae Win 2021 Committee Challenge
Jandowae won a close event at Pittsworth from 16 other DDGA clubs. The team of Blake Cavanagh, Brendan Taylor and Mark Davis scored 107 points to edge out last years winners, Bell by 2 points.
An eagle on the 6th hole from Mark Davis may have been the difference. Jandowae have a very good record in recent years in the event now having won in 3 of the last 6 years. Thanks to Pittsworth Golf Club for hosting the event in 2020. In 2021 teams will travel to Clifton Golf Club to try and win the shield.
Jake Castles from Clifton won the single stableford held in conjunction with 38 pts.
From left: Barry Volp DDGA President, Blake Cavanagh, Brendan Taylor - Jandowae President and Mark Davis.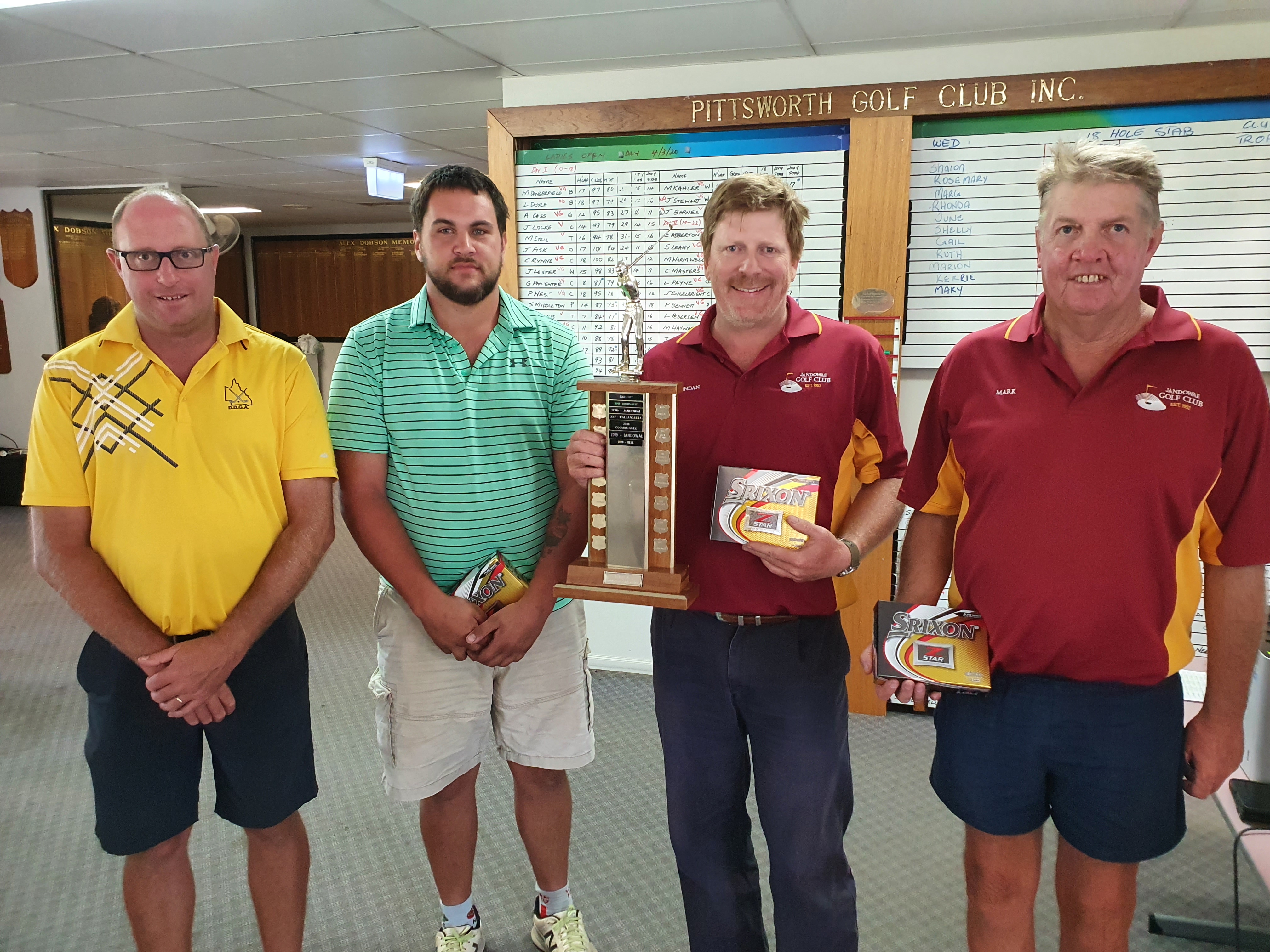 BELL GOLF CLUB WIN COMMITTEE CHALLENGE
Millmerran Golf Club hosted the Annual Committee Challenge on Feb 8. A great field saw the Bell team of Bonnie Edwards, Dave Edwards and Mark Fergus take home the trophy with a score of 52 points. They edged out the guys from Crow's Nest by a couple of points.
The event was shortened to 9 holes after a downpour brought everyone back to the club house. Thanks to Millmerran Golf Club for their great hospitality, fine meal and the course presentation.
Pittsworth will host the event in 2021 where the coveted trophy will no doubt be hard fought.